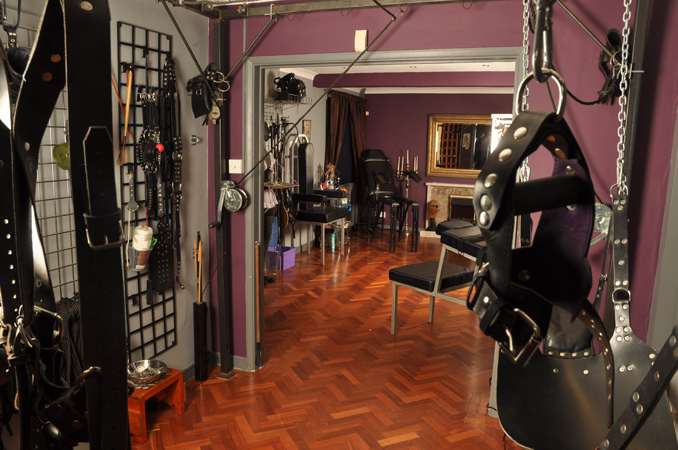 http://www.londonmistressleah.co.uk/gear/
Great opportunity to purchase dungeon furniture and start a business immediately. I am selling all my furniture including rubber and leather hoods, whips,paddles, nipple,CBT toture equipment,dildos butt plugs etc, medical equipment and much more.
If you are looking to start a business or want to add to your existing dungeon then this is the perfect opportunity to buy some good solid quality furniture and accessories.
For sale as a job lot only do not wish to sell individually.
2 black whipping benches one of which is designed to also use for medical work and has stirrups attached with head rest. Both have body straps.
1 huge rack over 6ft long not including the overhanging winches at both ends,3ft wide, with over hanging bars for tying rope and nipple clamps, cage underneath. This item needs a little work as could not fit into storage straight away, so metal parts need repainting. The leather padding is in good order as went straight to storage.
1 long black leather, black steel framed torture bench, with a multitude of leg straps and body straps. Back can be raised for different height adjustments and middle part can be taken out for hanging ball weights. This is a very heavy piece of furniture.
1 Black Mistress/Bondage chair made of solid wood and black leather with silver studs arm and leg straps with a seat that comes off so you can hang ball weights.
1 Black Fetters medical chair with stirrups.
1 small bondage chair.
1 Toilet seat with legs
4 way suspension.
1 leather sling.
1 leather body harness with iron bar.
1 cross that is designed to be used on suspension.
1 latticed body bag designed to hang from suspension.
2 fetters black metal grills for hanging accessories, and 2 stainless steal grills.
3 huge mirrors.
1 white PVC medical screen. 1 green and white small medical bench with inbuilt tray.
1 Canvas and leather body bag.
2 metal cage doors.
everything must go as a job lot £3,000 sensible offers will be considered. To see some of these items go to www.londonmistressleah/gear/
Any interested persons pls email me.