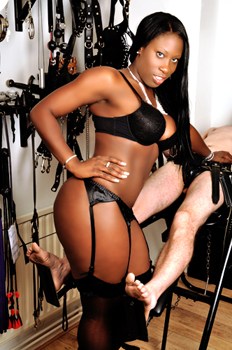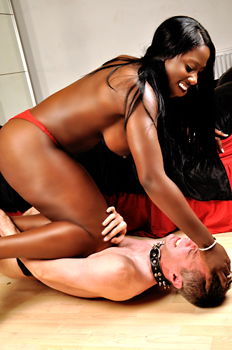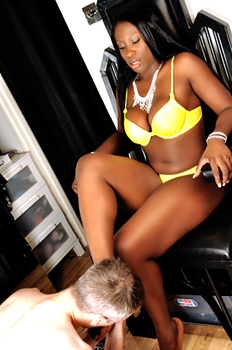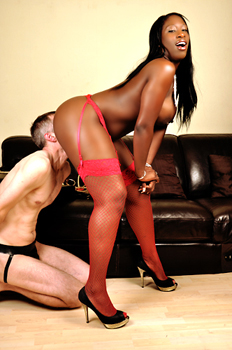 While you are at my mercy I have great pleasure and fun in the agony, pain and misery you experience. On the other hand I am a woman with needs and I enjoy my body to be worshipped because I am in love with it!! I am called Goddess Siren because slaves are alert when I am around. If you do not really want to book a session with me I would appreciate it if you do not waist my time.
I am 5″8 without heels and 6″1 with heels. I hold an amazing amazonian chocolate figure with a very curvy frame and big ass. I love my mistress lifestyle but I am not a lifestyle mistress.
I found domination to be a new world to me. I always knew that women were superior and that men were inferior in my heart but never realised it until I came of age. I cannot even go back into a vanilla/normal way of being when I know that laying the laws, doing what I want, being treated as the queen I am and abusing the minuet figure we know as slaves is far much fun. I find myself growing more in my sadistic ways and getting a real kick out of being in control. Come and grow with me, I'll educate you on how to be …
I love to give discipline, teach manners and point out individual faults. If you choose to submit to me, it is your own decision. I am very strong and gain my energy from slaves that have given themselves to me accelerating me to grow more powerful.
These are all my most favourite things I like to do in a session although I can do others to you, you would have to ask me politely !
I have my own apartment and access to dungeons across North, East, West and South London upon request
I am very open minded and consider most sessions if you ask me politely. I love conducting role play with ease!….
Black Master and Goddess private sessions
Bi-Parties
Bi-Training
Intense Rope Bondage
Body Worship
Face-sitting
Intense Ass Worship
Hand Relief
Tie and Tease
Penis Tease
Trampling
Wrestling
Foot Worship
Tickle Play
Breathe Control
Hard/Water Sports
Toilet Training
Voyeurism
Public Humiliation
Bondage
Ball Busting
Electrics
Domestic Slave Training
Maid Training
Cross Dressing
I do what I want but do consider your do's and don'ts in case I get too carried away …..lol
07985 212 111
or email me
Available 7 days a week until 10pm