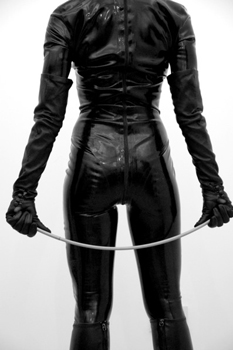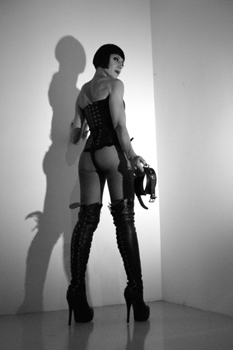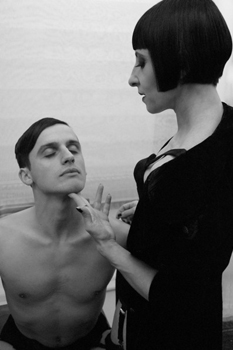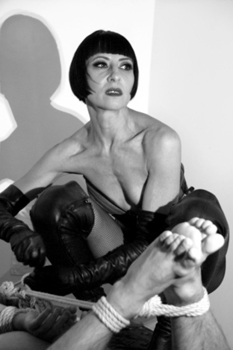 Novice or 'Connoisseur', as you step through the doors of my chambers, I tune to the frequency of your mind.
I am a French Professional Dominatrix. I am educated, determined, inspired, thoughtful and cruel. Your fears and obsessions are my inspiration, your agony my pleasure.
I conduct my sessions from my fully equipped Chambers in the heart of London.
I am interested in the drama, clandestine secrecy and eroticism of illicit encounters where a power exchange is enacted. My 'penchant' for all things Forbidden, Unusual, Dark or Awesome developed in childhood and never ceased. An affinity and understanding of the processes of transformation through Ritual & Catharsis means that I am a natural 'Maitresse de Cérémonie' and I bring into my sessions my passion and skills for Eros's dark Theatre.
I feed on Suspense: the one I create for you; Thus I take great care in mapping out your shadows and taboos, incorporating the specific ingredients that will make you feel weak, fall and obey to my own demanding prerogatives. This is why I place particular emphasis in communication.
I thrive on Performance: when all the careful preparations must vanish and all that is left is the curiosity and tension of enacting a scene: leaving the stage to the performers: You and I.
Maîtresse's background and Sessions
Nuit means "night" in French. However "Nuit" was also the Egyptian goddess of the sky, who leans over the earth god, Geb. In Egyptian iconography, the goddess Nuit is depicted as a naked woman covered in stars, arching flexibly on all fours, over Geb. It is an appropriate image for me, a graceful pose familiar to me, as a former ballet dancer, and depicts the kind of all-embracing presence I hold over my submissive, covering him and enclosing him in my sensual power.
With a background in performance and visual arts, as well as being well-educated and cultured, I am a lover of the erotic taboo.  I undertook formal training for a year with the well-regarded Mistress Fiore, prior to her retirement, before beginning my own career as Domina, developing further and sharpening my skills.
I enjoy applying my creativity, intelligence and inspiration to bear on my sessions.
My interests as a Domina gravitate around Acceptance (yours), leading you on the path to submission and devotion to your Mistress. This include discipline, you must bear some pain for me. Corporal punishment and rituals come naturally to me, whether a damn good spanking (or as we say in French, une bonne fessée), a caning, or the exquisite whip of the tail. I love to torture and violate those delicate areas of the male anatomy, as appropriate, with clamps, weights, electrics and needles.  I also enjoy roleplay scenarios, as Ruler, Elegant Despot, Cruel Doctor, Governess, Honeytrap, Interrogator, Employer, Head Teacher, to name but a few. And while discussing role and costume, I like also attire which engages with fetishistic attachments – fur, cashmere, silk, rubber, leather, stiletto points, boots and gloves, the items and accoutrements that sends a delighted shiver down the spine for a submissive. I delight in tresspassing Gender boundaries, seeking the female hidden in the shadows of each man and teasing her to the surface with the wonderful accessories of the Femme Fatale. I should mention that I have a soft spot for bondage, restraint and sensorial deprivation: I enjoy weaving, like Arachnea, binding and encasing you within my web. Whether with rope and knots, with leather belts, cocooned in rubber, silk, or some other fabric or materiality.
I cater for both beginners, through to the more advanced and masochistic, for those who cannot be marked, and those who most definitely can.
Aside from pain, psychology is important to me. After all, isn't the brain the most important sex organ?
I like to climb inside those fantasies and dark desires, and make them happen. To push you further to discover yourself.
Yes, you shall outline your interests, your tastes, taboos and weaknesses. These provide me the raw ingredients. And so it is. Then we begin.
Contact
I enjoy working in an atmosphere of trust with the submissives and / or masochists who share my interests and become my devotees.
I regard communication as an essential skill and encourage you to email me with as much information as possible about you, your fantasies and your expectations. From this material, I can paint a psychosexual portrait and create sessions perfectly tailored to your psychology.
Should you feel that we are well suited, you may contact me by email at the following address:
Alternatively, you may call me at the following number:
+44(0)7722 889 772
Visits are by appointment only
booked in advance. Be advised that I'm exclusive and busy, therefore I only accept a few clients.
The length of my sessions is typically 1h30′ to 3h.
That gives me sufficient time to 'conjure, torment, delight and close' (bring you out of headspace with care).
I enjoy also longer sessions in and out of my chambers as well as overnight stays.
Nuit's Wednesdays
This is the one day I am often able to conduct "last minute bookings", and shorter sessions.
+44(0)7722 889 772