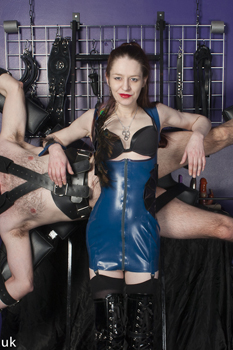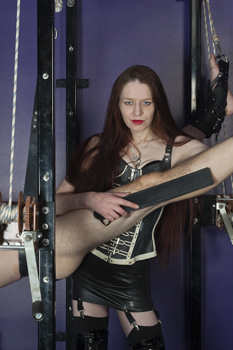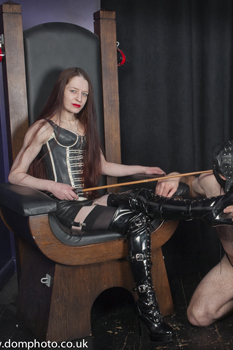 "One must do violence to the object of one's desire; when it surrenders, the pleasure is greater" – the Marquis de Sade
I have passed from the outermost portal
To the shrine where a sin is a prayer;
What care though the service be mortal?
O our Lady of Torture, what care?
All thine the last wine that I pour is,
The last in the chalice we drain,
O fierce and luxurious Claudia,
Our Lady of Pain.
Taken (with a bit of a liberty) from 'Dolores (Notre-Dame des Sept Douleurs)' by Algernon Charles Swinburne
I am well- spoken and articulate, highly educated with a degree in English Literature from Oxford university and I speak French, German and a little Italian.
My chambers are located between Staines and Chertsey in Surrey near junctions 11 or 13 of the M25. A train from Waterloo to Staines takes 30 minutes, followed by a short taxi ride. I have 2 very well equipped dungeons, a white room, a school room and a TV boudoir with a range of outfits including lingerie, shoes, wigs and rubber wear.
Here follows a few of my favourite activities but this list is far from exhaustive. See my website for more details of the services I offer.
BONDAGE AND RESTRAINT
CORPORAL PUNISHMENT
COCK AND BALL TORTURE
NIPPLE TORTURE
ELECTRICS
ANAL PLAY AND STRAP-ON
MEDICAL SCENES
ROLE PLAY
TV TRANSFORMATION
NO sex or intimate body worship – DON'T insult me by asking.
When you attend for your session I begin with a discussion to gauge your level of experience and to explore your interests and fantasies. I will also give you safe words to use if necessary. I am always open to suggestions: incorporating fresh ideas stops me from becoming stale and bored, but I never adhere to a script. I am the one in control and don't ever forget it!
AVAILABILITY: Monday to Saturday from 11 am to 8 pm
Telephone: 01784469311 (no withheld numbers)
Email: [email protected]
To make an appointment use the phone. I do not accept bookings by email, though you may write to discuss aspects of the session.
Website: www.mistressclaudia.co.uk