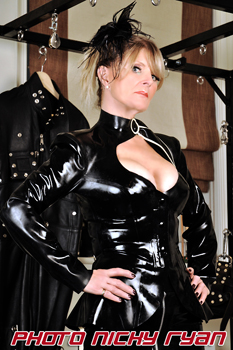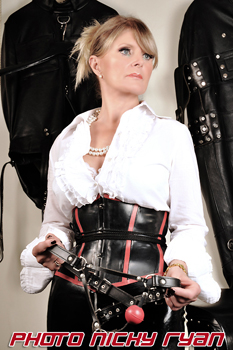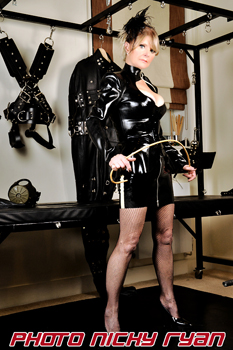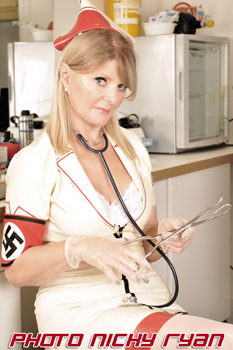 Mistress Vanessa. Aries, 5'7″ UK dress size 10, UK shoe size 5
I am a Professional Domme, S/M educator, fetishist, and an active member of the lifestyle community. I  have a background in medicine, this I've found to be invaluable and useful in various safe medical scenes.
I have been a Professional London Dominatrix for over 15years but have enjoyed the S/M scene in private for many more. I am a natural dominant, enjoy my work and feel I am constantly learning more and more. At first my private interests were my training ground, thus allowing me to develop a style of my own. I have trained under no one and am like no other. The Lady Domme.
What really makes a session for me is a power exchange; this will allow us both to experience an erotic journey. A submissive should be honest about his likes and dislikes and of course what limits he is prepare to push (communication and a total surrender of control). I love pushing limits – both of ours!  This can be achieved through one-to-one discussion or a detailed letter prior to a session. It is important that the client be subservient, masochistic or fetishistic in nature.
Someone sincerely offering their mind and flesh for me to explore, watching them serve, endure, or suffer for my pleasure and knowing that it's theirs as well. Finally, I must say that whilst I respect the limitations of a novice, I can be a sadist with a love of corporal punishment for which I am very skilled and accurate. Please don't think I lack humour or compassion I love a joke with my masochist friends and laughing at my submissives!
In summary, I am available Mon to Thurs inclusive at my establishment in W1, London, England. Once in my traditional chambers I will listen and digest your fantasies, interests whilst respecting your limits as you would mine. Extended sessions are available upon pre-discussion and pre-arrangement. Submissive available. Please call my receptionist for all appointments.
Body Modification
Bondage
Corporal Punishment
Cross Dressing
Domestic Chores
Fantasy Roleplay
Enforced Feminisation
Foot Worship
Humiliation
Medical
Psychology/Psychodrama
Sadism
Smoking
Strap on training by Mistress Raven (by appointment only)
Forced feeding
Food showers
all sports (by arrangement)
Regular parties
contact me on 07000 782425
or email me [email protected]